Created on Monday, 13 July 2015 10:12
About
Gastroenterology and Hepatology Clinic is a highly specialized health institution which deals with diagnostics and therapy of digestive tract diseases, diseases of liver, gallbladder, biliary ducts, pancreas and peritoneum.
Gastroenterology and Hepatology Clinic was established in 1990, branching out from Internal Diseases Clinic in Niš.
Very complicated diagnostic and therapeutic procedures have been introduced at this clinic due to a high level of technical equipment. The following procedures are conducted: esophagogastroduodenoscopy, colonoscopy, duodenoscopy with lateral optics, capsular endoscopy of small intestine, capsular endoscopy of colon, endoscopic ultrasound of changes in esphagus, stomach and duodenum, ultrasound of parenchymal organs from the stomach and duodenum, abdominal ultrasound, Color Doppler of the portal system, endorectal ultrasound, urgent endoscopy in bleeding from the upper segment of the digestive tract, hemostasis of bleeding lesions of esophagus, stomach, duodenum and colon using injections and hemoclips or by combining these methods, argon plasma coagulation in the management of bleeding lesions of the digestive tract, band ligation in treatment of esophageal varices, sclerotherapy for esophageal varices, colonic polypectomy, mucosectomy of tumorous changes of esophagus, stomach, duodenum and colon, foreign body removal, chromoendoscopy of changes in esophagus,
chromoendoscopy of changes in colon, ERCP, papillotomy, extraction of calculus from the biliary duct, biliary duct stenting, pancreatic stenting, setting nasoyeyunal probe, percutaneous endoscopic gastroscomy, blind liver biopsy, liver biopsy under control of ultrasound, rigid rectoscopy, the use of pegylated interferon in patients with chronic hepatitis C, the use of biological therapy in patients with ulcerative colitis and Chron's disease.
The clinic is included in numerous international trials examining biologically active substances in inflammatory processes of colon and in examining vaccines in patients with chronic hepatitis B. They also participate in the continuing education program at the Faculty of Medicine in Niš. Medical doctors from this clinic are also developers of several projects the Ministry of Health and Environmental Protection each year. Gastroenterology and Hepatology Clinic hosts a regular monthly meeting of the SMS gastroenterology section.
Organization
Department of Liver and Gallbladder Diseases
Department of Digestive Tract Diseases
Department of Intensive Care
Department for Admission of Patients, Spec.- Consultative Service and Diagnostics
Daily-care Section
Cabinet for Ultrasound and Endoscopic Diagnostics and Monitoring
Personnel
Aleksandar Nagorni, MD, PhD
Goran Bjelaković, MD, PhD
Biljana Radovanović-Dinić, MD, PhD
Doc. dr Vesna Brzački
Ass. mr dr Bojan Mladenović
Mr dr Snežana Tešić-Rajković
Doc. dr Daniela Benedeto
Dr med. Sci. Suzana Raičević-Sibinović
Žaklina Pajević
Како доћи до стационара и специјалистичке амбуланте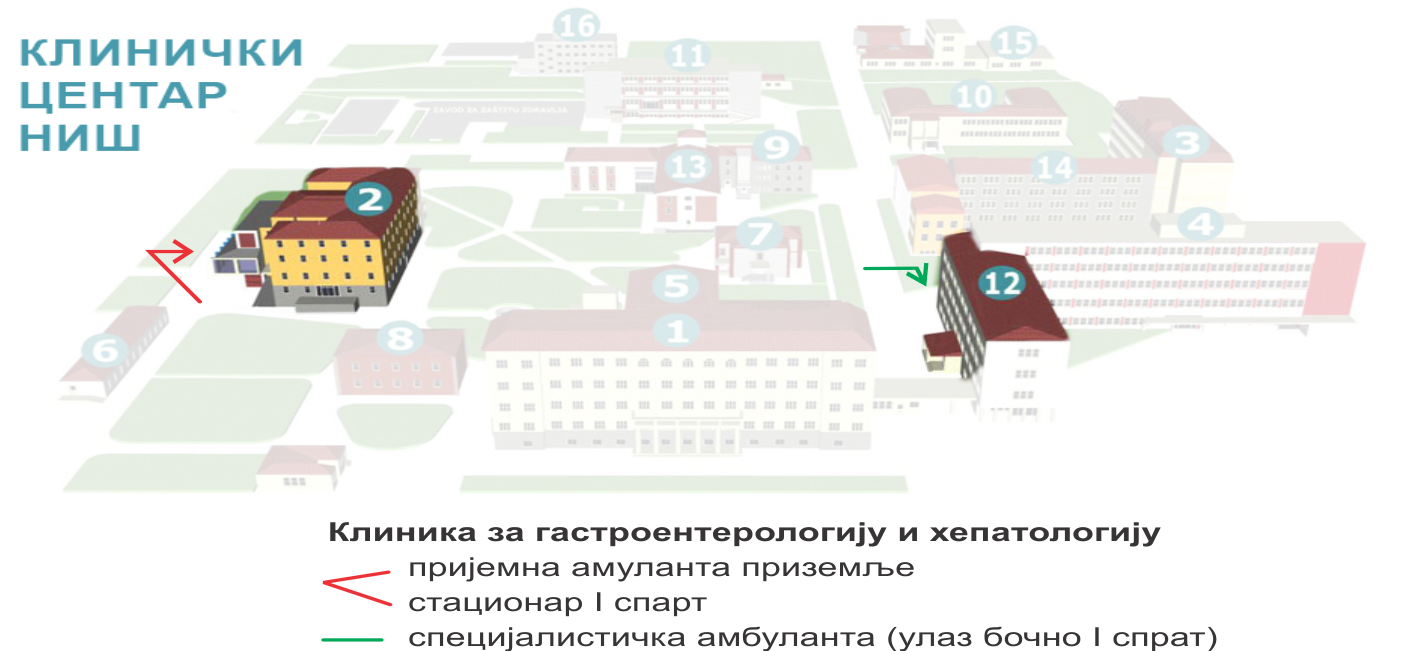 Click on image to enlarge