Created on Monday, 13 July 2015 11:27
The first civil surgical service was formed after the establishment of the District Hospital in 1881. Further development of surgery in Niš was related to the formation of the General State Hospital in 1910.
General Surgery Clinic is a highly specialized health institution which provides services in the field of general, abdominal, thoracic, endocrine and breast surgery. Medical doctors from this clinic are specialized in particular surgical branches, so that there are teams of surgeons dealing with gastric, duodenal and small intestine surgery, colorectal surgery and proctology, hepatobiliary and pancreatic surgery, endocrine surgery, breast surgery etc. Polytraumatized patients are also taken care of at the General Surgery Clinic. Since some new surgical procedures have been introduced lately, this clinic is one of the most successful in the country.
Daily work of clinical pharmacologists has significantly improved the administration of medicines, which has also contributed to the recognition and removal of adverse effects of medicines.

Operation Department
Intensive Care and Therapy
Department of Gastrointestinal Surgery
Department of Colorectal Surgery
Department of Hepatobiliary and Pancreatic Surgery
Department of Endocrine Surgery and Breast Surgery
Stoma Center
Department for Admission of Patients, Spec-Consultative Service and Diagnostics
Nebojša Đorđević, MD, PhD
Goran Stanojević, MD, PhD
Dr Aleksandar Bogićević
Doc. dr Aleksandar Karanikolić
Prim. dr Dragoslav Miljković
Prim. mr dr Ivana Đorđević
Mr dr Dragan Mihajlović
Chiefs of Departments-Cabinets
Dr Dragana Buđevac
Ass. dr Branko Branković
Mirjana Marinković
Како доћи до стационара и специјалистичке амбуланте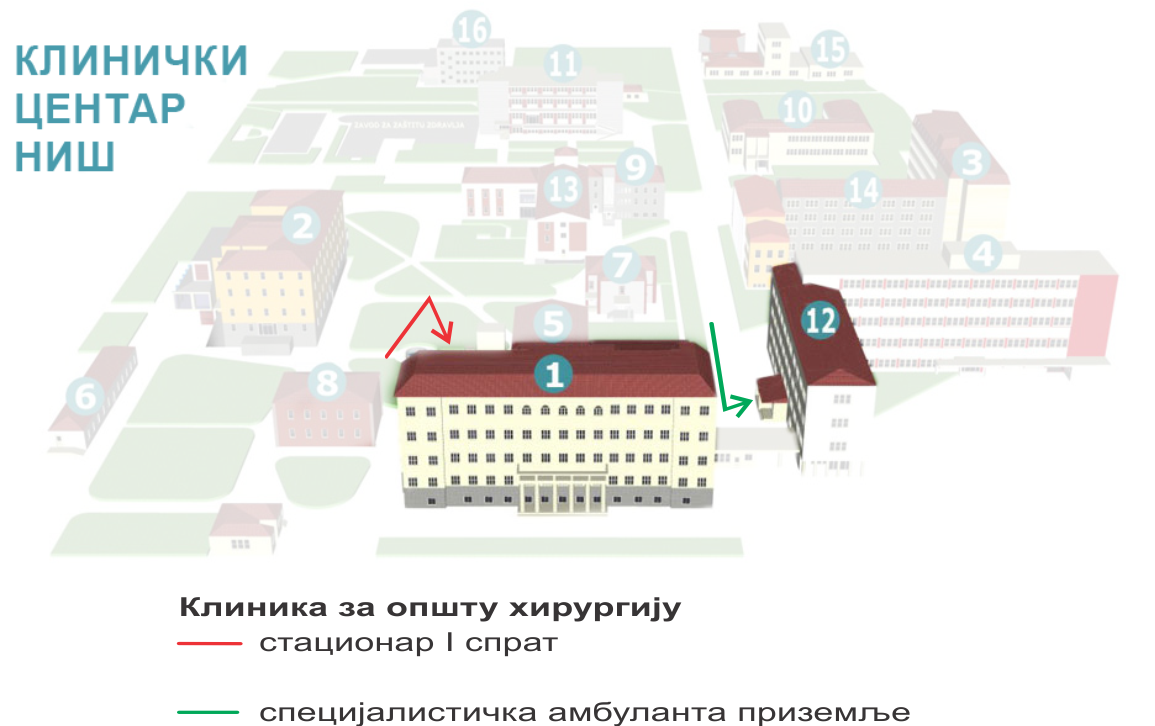 кликни на слику за увећање