Created on Monday, 13 July 2015 14:22
Branching out from the Surgery Clinic in 1970, the Urology Clinic was established and it immediately became a teaching center of the Faculty of Medicine in Niš. This clinic became part of the Clinical Center Niš in 1990.
Urology Clinic is a highly specialized health institution which deals with diagnosis and surgical treatment of urinary tract diseases. Medical doctors from this clinic constantly acquire new knowledge in this field, thus new diagnostic and therapeutic procedures have been introduced lately:
Urethral reconstructive surgery
TVT procedure (suprapubic transobturator treatment of stress incontinence)
Prolift procedure in the treatment of lower genital tract and stress incontinence
Orthotopic bladder substitution
Endoscopic lithotripsy of ureteral calculi using Lithoclast
Corrective surgery of Peyronie's disease with disassembly technique
Medicamentous castration
Intravesical therapy for bladder cancer
Surgical treatment of erectile dysfunction
Corrective surgery for congenital and acquired anomalies of the penis
Surgical treatment of male infertility
Fibrin glue for partial nephrectomy, etc.
Open Surgery Department
Operation Department - Endoscopic Urology
Intensive Care and Therapy
• Section of Lithotripsy
Department for Receiving Patients, Spec-Consultative Activity And Diagnostics
• Day Hospital Section
Doc. dr Dragoslav Bašić
Mr dr Bratislav Pejić
Prof. dr Ivan Ignjatović
Mr dr Tomislav Stamenić
Dr med. sci. Milan Potić
Chiefs of Departments-Cabinets
Dr Zoran Đorđević
Dr Predrag Mitić
Heads of Sections-Cabinets
Dr Nina Medojević
Danijela Stamenković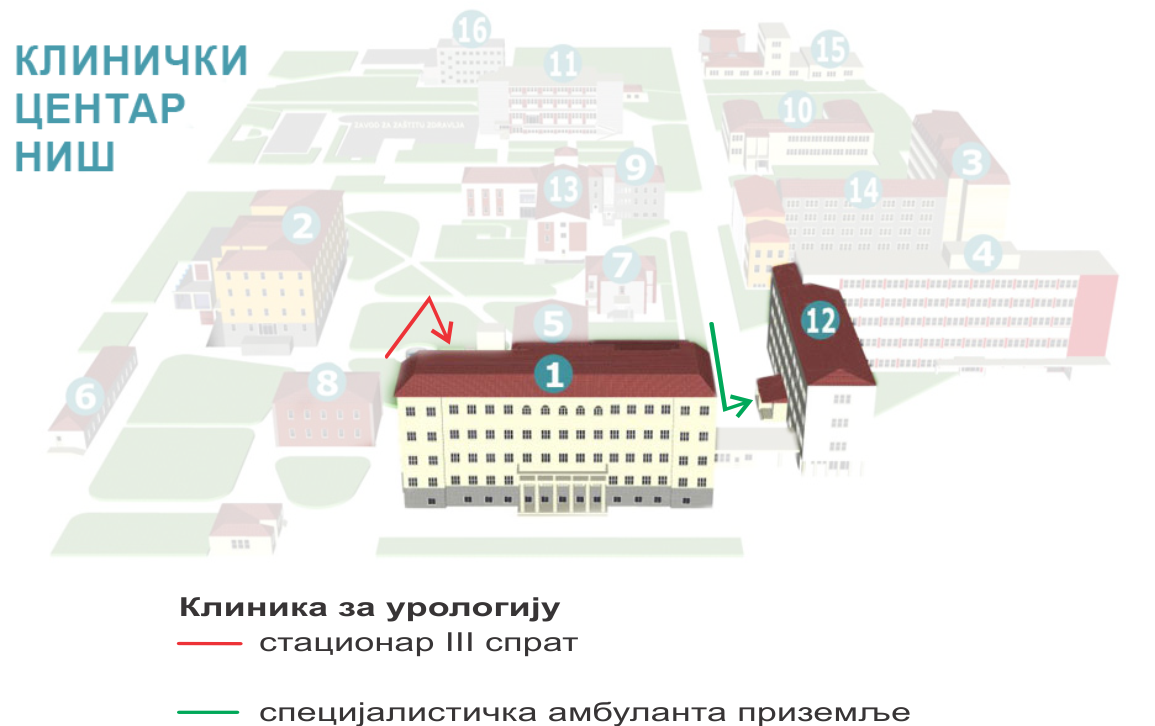 Click on image to enlarge